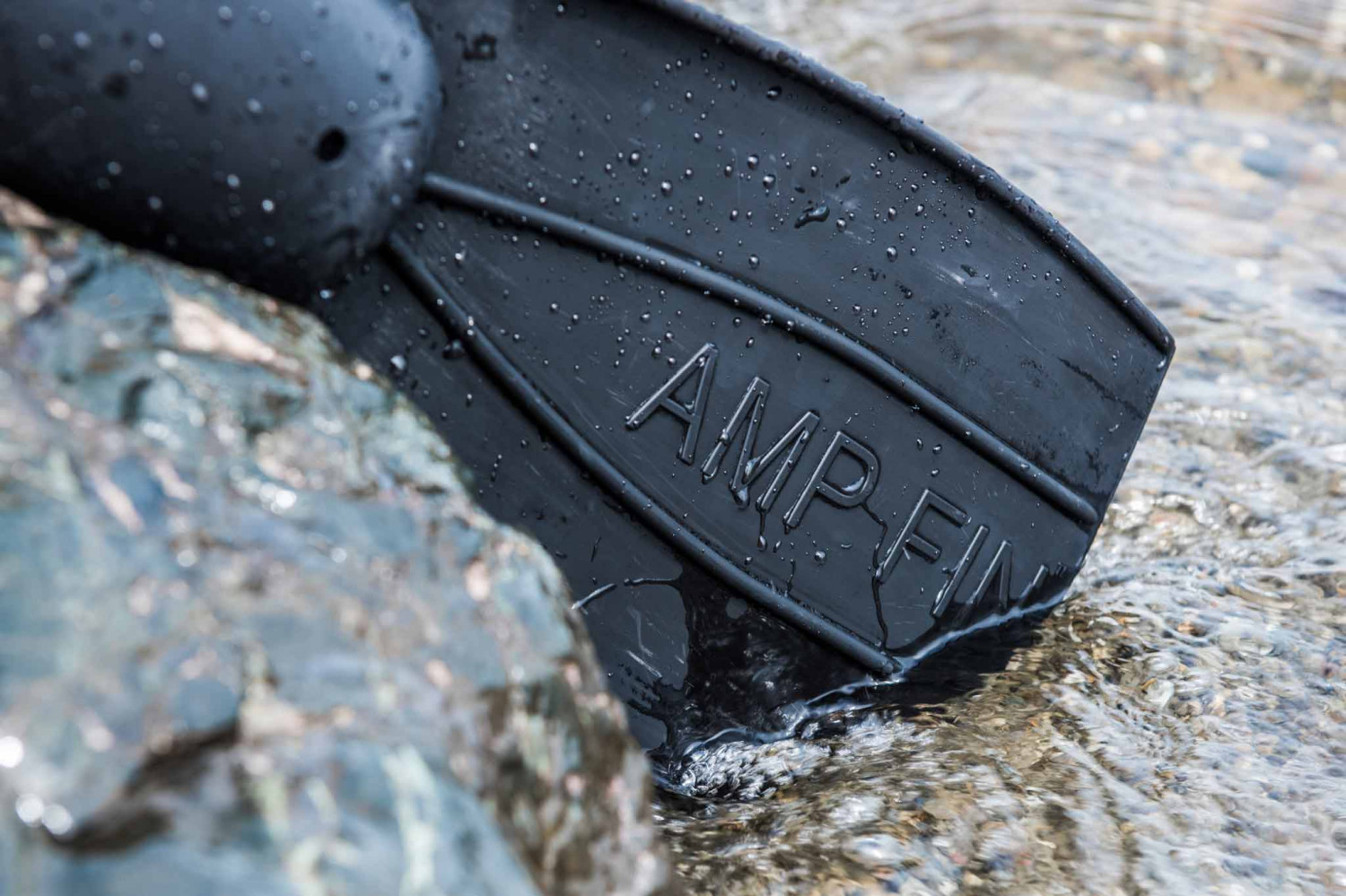 MISSION
Our mission is to provide both above and below knee amputees a high-performance swim and dive prosthetic fin, giving amputees the ability to reverse the effects caused by limb loss by strengthening residual limbs, increasing range of motion, improving gait, and leading to a more active lifestyle.
OUR STORY
The AMP Fin™ story starts with an unfortunate, life changing event and ends with a prosthetic fin that makes swimming, diving, and physical therapy possible.

Randy Lord has been an amputee since 1990. Prior to an industrial accident that resulted in the loss of his leg below the knee, he was active in both commercial diving for scallops, and in recreational swimming. During the early onset of the Global War on Terror, Randy and his wife, Lori began to see the staggering number of wounded soldiers returning from battle as amputees. Knowing how drastically his own life had changed due to amputation, Randy and Lori began to research ways to assist other amputees in feeling "whole" again after limb loss. Their love for water and swimming led them to try swim fins for amputees that were on the market. As a result of Randy being unable to find a device that suited his needs, he and Lori embarked on a mission to develop a custom-fit fin that would allow Randy and other amputees to return to the water for recreational, as well as physical therapy purposes.

The quest began in their kitchen-turned makeshift science lab in Danforth, Maine where they created and tested the first few formulas and fin designs. From their home kitchen/lab, their operations moved to the G&G Products, LLC manufacturing plant in Kennebunkport, Maine where G&G has been instrumental in the development of the prototype molds. Together with G&G Products, LLC the Lords designed the custom-fit AMP Fin™ in eight adult sizes and one youth model.

Continuing with their vision, Randy and Lori took their invention to Cory LaPlante, Certified Prosthetist and owner of Northern Prosthetics & Orthotics in Presque Isle, Maine. As an above knee amputee, Cory tested the AMP Fin™ on a family vacation to Florida, experimented with its uses, and returned from vacation in full support of the Lord's product and enthusiastically joined the management team.

Because AMP Fin™ has overwhelming physical therapy benefits, Cory introduced the Lords to Dr. Brad Ala, a physical therapist at a local medical center in northern Maine. Recognizing the positive therapeutic impact qualities of the AMP Fin™, Brad became involved in the project and utilized the skills and tools of his personal production company to develop instructional videos on the proper use of the AMP Fin™ and joined the ranks of the management team.

During the developmental stages of AMP Fin™, Randy and the AMP Fin™ team met with Senator Susan Collins and then traveled to meet with the Governor of Maine, Department of Defense, several VA medical centers, as well as Walter Reed National Military Medical Center. Following the visit to the Walter Reed facility, the development of the second AMP Fin™, a mechanical attachment that connects to the user's current prosthetic device, became a reality.

The AMP Fin™ is patented in the United States, is patent pending in several foreign countries, and has been approved by the USDA as a Class 1 medical device.
CORY LAPLANTE, CP
Certified Prosthetist/Fabricator
Cory LaPlante is an ABC Certified Prosthetist and owner of Northern Prosthetics & Orthotics, and Fin Fab, LLC. Cory received his Bachelor's Degree from the University of Maine in Presque Isle, then went on to pursue his post graduate education from the University of Connecticut through Newington Certificate Program in Prosthetics. Upon completion of his residency requirements, Cory returned to Northern Maine to open his own practice and serve the patients of Maine.

Cory has a true understanding and compassion for all his patients as he himself is an above knee amputee and faces the same challenges and hurdles as the people he serves.
BRAD ALA
Physical Therapist
Dr. Bradley Ala is a physical therapist who consults with AMP Fin™. His experience working with prostheses provides an understanding for the physiological demands of the AMP Fin™. Dr. Ala developed Hillside Productions, which then created the instruction/safety video that is supplied with each fin purchase. He is licensed by the Board of Physical Therapy in the State of Maine and practices in Presque Isle in both inpatient and outpatient settings with special interests in prosthetics, wound care, and manual therapy.
Lori Lord has an Associate Degree in Secretarial Science. She worked as the bookkeeper, accountant, and office manager of the Lord Families construction business for over 15 years. During that time, she employed over 100 employees, multiple multi-million-dollar contracts, and project management. She retired from the construction business in 2008, to pursue other endeavors, most importantly an instrumental role in the research and development of AMP Fin™.
MANUFACTURING & MATERIALS
G&G Products LLC
G&G Manufacturing Inc. was established in 1999 when Unico, a large manufacturer of urethane and composite products for the shoe industry, decided to sell off their machining division and subcontract their needs. The division manager, Gary Gagnon, purchased the equipment and machine shop assets from Unico and continued to produce custom shoe molds and other experimental products for Unico until they closed in 2001. From 2001 to 2002, G&G diversified their client base and purchased more advanced technologies to keep up with customer demands for precision molds and machined parts. Based on encouragement from existing and potential new clients, in 2001 G&G purchased several high-pressure injection molding machines and supporting equipment to establish a mold testing shop and full-service thermoplastic injection molding production facility. The company utilizes the newest CAD/CAM technologies and owns high-end machining equipment generally found in large machine shops. Today, G&G designs and produces specialty molds and thermoplastic injection molded products for the specialty domestic shoe industry, and other niche markets, including dog toys for several US companies, and other products for New England based entrepreneurs.
Teknor Apex
Every day around the world people encounter Teknor Apex products. From bottles to boots to junction boxes, dashboards to ear buds to garden hoses, kayaks to toys to decks, specifiers and processors of products call on Teknor to be their trusted polymer partner. That trust is something we've earned by continually delivering custom solutions that meet or exceed our customers' requirements-and expectations. Our status as the most dependable material science company in the industry is due to our talented Teknor teammates, as well as our unique infrastructure that offers unrivaled material testing and quality control. With six specialty divisions and almost a century of expertise, we have the capability to deliver highly tailored solutions, no matter the customer, supplier, or product. Our application development engineers, and sophisticated analytical and technical labs enable us to continue to develop new products to solve your hardest problems.
Hear what people are saying about AMP Fin™
"I am the front office administrator for Premier Prosthetics and Orthotics in St. Louis. We just delivered our very first AMP Fin™ and what a success! Our patient was so happy!"

Lauren Shelton, Office Administrator, Premier Prosthetics and Orthotics, St. Louis, MO
"The AMP Fin™ is making waves in the prosthetic community! Approximately two years ago, Attorney Chris Caseiro was successful in obtaining a patent in a swim fin for leg amputees that was created by Randy and Lori Lord. The Lords are an example of the type of innovators that live in Maine. They saw a need that was not being met, developed the solution, sought the appropriate intellectual property protection then marketed it to the world!"

Caseiro Burke, Attorneys at Law, Scarborough, ME
"Part of a successful recovery from both mental and physical injuries is physical activity. Not only the obvious physical gains, but it also helps to strengthen the mind and gives back the sense of pride in yourself. I truly believe that AMP Fin™ is going to be able to bring a whole new dimension to those with above and below knee amputations."

MCpl (Ret) Scott Atkinson, CD, Canadian Armed Forces, Invictus Games Athlete 2017